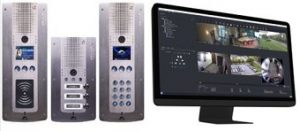 Users of the Wavestore video management system (VMS) can now benefit from its integration with video entry systems from Castel. The VMS has been integrated with Castel's open protocol Xellip2 IP video intercom system to provide users with seamless control and management of their systems.
The ONVIF-compatible Xellip 2 features a new wide-angle HD camera with 1200 x 800 resolution. Featuring a sleek, contemporary design with backlit and flushed nameplates, the Xellip2 has two output relays and two inputs for third-party integration, as well as two Ethernet ports (1x PoE and an additional one for serial/bus architecture type and loopback). Other highlights include echo and noise cancellation, a built-in induction loop for compliance with anti-disability discrimination legislation, audio feedback and call status LEDs, power backup, built-in web browser and the ability to record audio and video.
"This integration with Wavestore's VMS puts users in the driving seat, enabling them to control and manage their video entry and other security systems using a single interface," says Atmane Bensghir, Business Development Manager at Castel. "Using ONVIF-compatible cameras and open protocols, we are able – together with Wavestore – to offer users a seamless experience and intuitive control.
Our VMS is equipped with a vast number of innovative features, many of which are unique to us, and which deliver real-world advantages to our customers. Wavestore is easy to operate and by combining video and audio, as well as metadata from third-party solution providers such as Castel, it is able to assist operators to respond rapidly to incidents as they happen, or through forensic examination after the fact, using our highly-acclaimed search and review functionality."