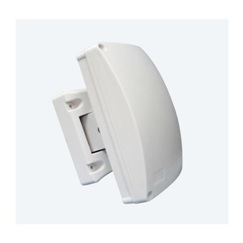 Microwave Barrier develops an electromagnetic beam using microwaves that pass from a transmitter to a receiver, creating an invisible but sensitive protection wall. When the receiver detects a difference of condition within its beam, it begins a detailed analysis of the situation that, if considered a real intrusion, provides an alarm signal that can be treated in digital form.
The difference between Microwave Barrier and infrared barrier is the protection area and environment endurance. On these two aspects, Microwave Barrier performs better than Infrared Barrier. Microwave Barrier can form a cubic protection space and not just a line. The space is about 2.5m * 5m and can be adjustable. Microwave Barrier can be installed at wall or fence of military sites, airport, power plants where high security requirement is needed.
MCB-150 is hard wired Focus brand, built-in waterproof equipment, anti-rain/snow. A microwave barrier is one of the most reliable and safe intrusion detectors used for outdoor perimeter protection.