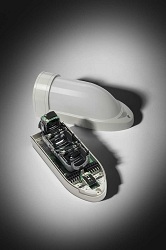 Following the launch of the 15 metre wide-angle PIR-T15WE and PIR-T15AM, Takex is now releasing the newest member of the High-Performance Outdoor PIR-T sensor family, the PIR-T40NAM; a 40 metre long-range passive infrared detector for CCTV and intruder applications.
With 4 selectable operation modes including low position, middle position, high position, and high density, the PIR-T40NAM provides detection versatility; offering up to 40 metres of vertical curtain protection with a mounting height of 2 to 6 metres. Precision triple mirror optics and intelligent signal processing allow the PIR-T40NAM to accurately and reliably detect human intrusion, whilst rejecting nuisance activations from pets and other small animals.
Precise detection area adjustment is made possible by projecting coloured LEDs onto the surface of each mirror during the alignment process, allowing sensitive zones to be fine-tuned to individual site requirements as desired, and a geared mirror array allows detection patterns to be dynamically optimised for performance based on mounting height and operation mode. The PIR-T40NAM includes active anti-masking as standard, with a dedicated output to signal any attempt to shield or cover the detector to evade detection.
Designed with demanding intruder applications in mind, and with precision mirrored optics alongside, alarm, tamper, and anti-mask outputs, the PIR-T40NAM also features a secondary dedicated output, ideal for interfacing with CCTV systems to deliver a fully integrated security solution. Other enhanced features including creep zone detection and lightning surge protection make the PIR-T40NAM a key addition to the Takex family of high-performance intrusion detection sensors.