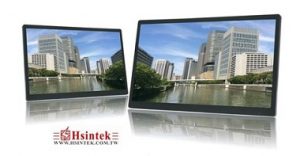 Hsintek Electronic, a specialist in the design and manufacture of monitors and LCD displays since 1989, has recently launched a new line of 4K UHD monitors. Hsintek offers the new line of 4K monitors in screen sizes from 15.6″ to 40″. These monitors are equipped with 4K HDMI / 4K display ports that support the display of maximum resolution up to 3840 x 2160 pixels. The line of monitors also provides RS-232 / DVI-D / VGA / HDMI interfaces.
The 4K UHD monitors support P by P (Quad) display for multiple signal applications. They are all housed in a metal casing that features a slim frame with round edges in design, and yet still offers better protection and operating performance for 24 hour surveillance display applications. A customised design is also available from Hsintek on request.
Hsintek works in compliance with a quality control system, and the company's products have been passed by CE / FDA / FCC / UL / CSA safety approvals. The company works to and strictly follows the quality standard system of ISO 9001-2008 to ensure products meet customer requirements.