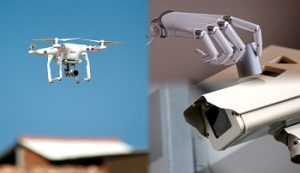 To say the surveillance industry has changed over the last quarter of a century is an understatement. From high-definition cameras and TVs to high flying drones and video analytics – the surveillance industry has shifted in ways we never expected to see in such a short space of time. What's more, with such advancements in both quality and choice that's now available in the market, it's no wonder that revenue in the video surveillance market is set to double to $75.64 billion by the end of 2022.
Overall, some of the biggest opportunities in the surveillance industry will be through adopting new technological practices, particularly around the Internet of Things (IoT), cloud storage and artificial intelligence (AI) such as machine learning. The main question however is exactly how these trends will shape the surveillance industry of the future?
Recently, Seagate and IDC released a white-paper looking at the future of data and the factors that will contribute to worldwide data exploding to 163ZB by 2025. One of the biggest reasons for the increase in data is the rise of connected devices as a result of the IoT. Specifically, within surveillance we are seeing this occur already, thanks to drones and other wearable security devices becoming connected and coming online. With so many more transactions being created and tracked it's crucial to think about how the surge in data will be managed.
With such complexity in both the data set and its use, it's imperative that we make sure that we have all the right hardware for the job. In the past, data centres would typically use the largest capacity drives their budget would stretch to, with the knowledge that the drives would be sufficient for its needs. However, as we move to a more complicated data set thanks to the rise of the IoT, we now need to begin to make more of a conscious effort to consider what drive is right for our needs.
A prime example is how specialised hard drives have been making their way in to the surveillance market that have been optimised for specific use functions. One such drive is Seagate's SkyHawk which allows security applications to continuously record video over a 24/7 basis. Unlike other industries, the surveillance market needs drives that have the capacity to run and write data 90% of the time so that businesses are never caught out using unsuitable and unreliable drives which could have serious consequences to personal and business safety.
The rise of connected devices is also generating a substantial volume of data. This poses the question of where exactly this data will be stored and conversations are already taking place around access to video in the cloud. There are a couple of benefits to consider when it comes to video surveillance in the cloud. Firstly, the data is stored in a central, shared system so users can access the content quickly and easily from wherever they are. Secondly, it's possible to update a cloud-based product on an ongoing basis, often in real-time, and once improvements have been made they are immediately visible and available to customers.
A key driver of the shift to cloud-based, fast-access, and truly mobile data usage is that data has increasingly become a critical influencer for not only our businesses but also our lives in all aspects. Our research with IDC revealed that data usage is changing and it now has to be analysed by its level of criticality.
The emergence of hypercritical data also means that businesses should look to review how they capture data and deliver data analytics. This is because they'll require an infrastructure that can deliver high reliability and bandwidth as well as increased security. This could be something as simple as making sure they choose the hard drives that offer the ability and resilience to deal with the requests for data analysis.
The use and integration of data in businesses and our lives is also quickly moving to the need for real time data. As such, data is delivered to not only inform but also determine actions — sometimes autonomously. Consequently, machine learning and AI is causing a huge buzz within video surveillance. And it's no wonder when the opportunity for our industry is huge. If security guards and emergency services can use the data from AI to make smart predictions, it will help increase preventative and real-time tactics in surveillance, rather than simply being used as a post event, forensic tool. Thanks to AI we'll see the industry becoming more proactive, rather than reactive, as a result of machine learning being able to predict security and surveillance situations before they happen.
Over time, the demand for intelligent video analytics and systems is only going to increase as more and more industries realise the benefits for its application. It's up to all of us to work with our partners and customers to ensure that they are ready for this change and are advised of the best way to manage and store the data generated to meet their needs.