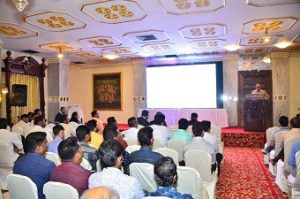 To impart security product knowledge and training, Hikvision recently organized Hikvision Training Program at Hotel Ambassador in Aurangabad. A comprehensive product introduction, live demos and training program were the key highlights of the event.
The Hikvision Training Program got overwhelming response from the security professionals in the city. It was a great experience for the Hikvision team to meet with potential partners and system integrators. This was instrumental in building trust and confidence in partners for the quality and services offered by Hikvision. The event was presided by the Assistant Police Commissioner Dr. Nagnath Kode and Hikvision's representative Mr. Bipin Gupta.
In his introductory note, Mr. Ashish P. Dhakan, CEO and MD, Prama Hikvision India Pvt. Ltd. said, "Hikvision is the world's leading provider of innovative video surveillance products and solutions. Today Hikvision is leading with artificial Intelligence (AI) enabled solutions in the security industry. We have the most comprehensive products and security solutions in Video Surveillance, Access Control, Intrusion System, Smart Home and Storage categories."
He further added, "The future of the security market in India is very bright due to robust growth prospects. We at Hikvision are offering the latest products and innovative technologies, including Artificial Intelligence (AI) and Deep Learning, Big Data, IoT (Internet of Things). The Hikvision Expo is our initiative to impart training and product knowledge to the security professional community."
Hikvision Expo started with a product introduction session covering Hikvision's latest HD and IP cameras, including the latest TURBO HD 5.0, Turbo HD 4.0 and Easy IP 3.0 Cameras. It was followed by a technology update on Artificial Intelligence (AI), Hikvision's Deep Learning Products Range, Face Capture and Face Recognition and Machine Vision Technologies.
In the next session, Hikvision's Team introduced EZVIZ Smart Home products. It was followed by Pyronix Intrusion Alarm System and its applications across the verticals.
After the lunch break the training continued further with an interactive session about the latest range of Video Door Phones (VDP) by Hikvision and their smart applications. The participants got very valuable information on Hikvision's special cameras, including Darkfighter Camera, Lightfighter Camera, Thermal Camera, Fish Eye Camera, People Counting Camera, PanoVu Camera, Anti-corrosion Camera and Explosion-proof camera. Apart from the training session, Hikvision's team also informed participants about new IT products, including Micro SD card, SSD and Mobile NAS