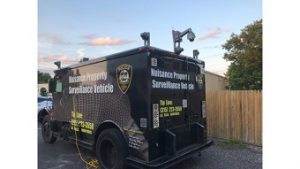 Hikvision USA Inc. worked with Hikvision integrator TAS Electronics in New York to furnish a full-scale surveillance system for "The Armadillo," a repurposed armored truck the Utica Police Department (UPD) uses to deter crime in the community.
"When the decision was made to upgrade the Armadillo the immediate concern was the camera system because it is the lifeblood of any high-quality digital video recording network. Knowing this, we demanded the best equipment available," said Edward Noonan, deputy chief of police for the UPD. "Hikvision and TAS Electronics provided us with high-resolution cameras that have the ability to see in the dark, and we can control these cameras remotely through an app on our smartphones with remarkably high resolution."
Six Hikvision turret cameras and two Hikvision PTZ dome cameras were installed on the vehicle for comprehensive panoramic surveillance. To provide 65 days of video storage and recovery, TAS installed a 32-channel Hikvision Pro-Series DS-9616NI-I8 NVR with 12 TB of storage.
Hikvision's technology, combined with TAS' expertise, resulted in a resource that improves crime monitoring and deterrence, making the streets safer for the citizens of Utica.
"The Armadillo is a great example of our integrators collaborating with a local police department to deliver improved safety and security to their community," said Alex Asnovich, Head of Marketing, Hikvision North America.