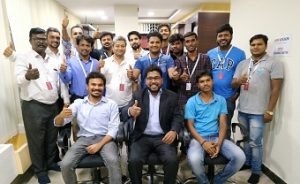 Hikvision recently conducted the Hikvision Certified Security Associates (HCSA) program between 22nd and 24th July in Bangalore. The HCSA program received an overwhelming response from the security professional community in Karnataka. The participants came from nearby areas and towns like Mangalore, and Mysore.
The three days comprehensive Program included training sessions on Optics Basics, Turbo HD Analog Solution, PTZ Configuration, Network Basics, IP Camera, NVR ,Fish-Eye Camera, iVMS 4200 and Smart functions, and Applications. The HCSA training program was conducted by Mr. Vinit Narvekar, Senior Technical Support and Training, Prama Hikvision India Pvt. Ltd.
The idea behind HCSA, is to give hands-on training and demonstrations as a part of the training program. This certification program included a dedicated online examination and practical tests. "Hikvision has set the industry standard by offering professional video surveillance certification to validate video expertise under Hikvision Certified Security Associate (HCSA) program in India. This Hikvision certification program is specially designed for the security professionals" said Mr. Ashish P. Dhakan, MD & CEO, Prama Hikvision India Pvt. Ltd.
The Hikvision Certified Security Associate (HCSA) certification program focuses on training participants in essential configurations, operations & maintenance of Hikvision video surveillance products and their features. It is designed for engineers, who have worked in the security industry for some years and have already gained knowledge and experience about security basics. The certification program is open to anyone looking to gain expertise in video surveillance and total security solutions. The trainee should have at least one- year of work experience in the security industry and be familiar with security basics.