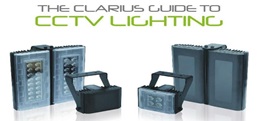 GJD is launching its new Clarius Plus IP Infrared and white-light LED lighting range for networked based security applications. The range provides dedicated lighting for IP cameras via Power over Ethernet (PoE), providing a smart and integrated lighting solution. All models feature the latest dual core surface mount LED's with enhanced optical output and an interchangeable lens diffuser system to deliver extremely clear night time images with no hot spots.
Clarius Plus IP offers performance and seamless integration with third party VMS providers. In addition to the comprehensive features of existing Clarius illuminators, the IP models provide real time remote monitoring access via a user-friendly secure web-based interface. Adjustable settings include temporary power boost, light pulsing mode for intruder deterrent, and timer functions for energy and cost savings.
Each Clarius IP is built with a unique anti-vandal shock sensor to ensure optimal intruder deterrent. For example, if an intruder attempts to vandalise the illuminator by throwing a brick at the unit, the illuminator will automatically detect and alarm. Designed with flexibility in mind, it comes with an interchangeable lens kit as standard. This useful installation feature allows the user to quickly and easily change the angle of illumination when on site.