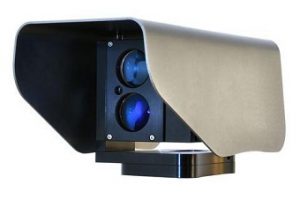 GJD, a specialist designer and manufacturer of electronic perimeter detection and LED illumination, has been shortlisted for the Exterior Deterrent Product of the Year category, at this year's Security & Fire Excellence Awards with its external Laser-Watch detector. GJD's Laser-Watch is a long range external surveillance detector. It has been designed to be accurate, reliable and fully flexible. It enables users to monitor and locate intrusions for applications where physical fences are not desirable, possible or where enhanced security is required. The Laser-Watch has extremely adaptable alarm settings and reacts in milliseconds.
With a detection range from 0 to 500m, the Laser-Watch creates powerful security solutions enabling CCTV recordings and ensuring cameras are directed to the precise location of intrusion; whilst guards are alerted with detailed alarm information. At the core of the Laser-Watch's design is functionality and ease of use. With this approach, the customer will find many advantages including quick and easy installation, effective outdoor surveillance for a variety of sectors and adjustable settings such as programmable detection range and twenty fully adaptable alarm zones.
The Laser-Watch is suitable for a variety of applications including monitoring pedestrians, perimeter protection, intrusion detection, stake-outs, securing open sites and protection against theft and vandalism.