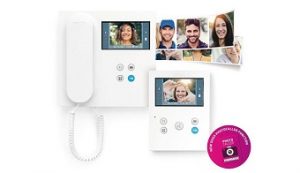 Digitalisation has reached the residential and commercial building sector. Now there are new applications to improving security in both residences and buildings. DUOX, the digital technology for home communications from FERMAX, is the first fully digital video door entry system in two non-polarised wires. This digital technology is one of the easiest to install on the market. DUOX door entry monitors are programmed in only 4 seconds on average. In addition to the great technical advantages and advanced functionalities of DUOX, FERMAX now adds security extra as standard thanks to PhotoCaller.
The new PhotoCaller functionality from DUOX makes the capture of images possible and stores them in the video door entry monitor installed in the home. This is a much sought-after feature for users of video door entry systems, as it provides more security in the community and in the home, allowing an images mailbox of people who have called at the door. PhotoCaller is now available on VEO and VEO-XS door entry monitors from FERMAX which incorporate DUOX technology at the same price. This function stores up to 150 photos of visits – both planned and unforeseen. When the image mailbox is full, PhotoCaller will automatically delete the first image captured, making more space in the images mailbox.
In this way, residents have an updated record with the date and time of all the people who have knocked on their door, whether they were at home or not. When the user does not want to use PhotoCaller, this function can be easily deactivated or activated temporarily or permanently, from the OSD menu of the video door entry monitor.