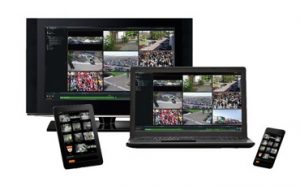 Digital Watchdog® (DW™), the industry leader in digital recorders, surveillance cameras and related management software, is proud to announce the release of the latest build of DW Spectrum® IPVMS. New version 3.0 takes a quantum leap forward in design and operability, delivering the most advanced capabilities while making the user interface (UI) simpler to master than ever.
DW Spectrum® v 3.0 has been built on a new platform, making it even more reliable and powerful than all versions that came before. The new platform includes a completely revamped user interface (UI), with a cleaner and simpler user experience, dynamic playback functions including an adjustable video buffer and an embedded browser that makes it possible to use other security management tools within the DW Spectrum® UI. DW Spectrum® v3.0 introduces a beta version of the new DW® Cloud™ service.
This valuable feature allows administrators to login to their servers from anywhere and easily invite and manage system users using only an e-mail address and password. DW® Cloud™ offers a secure and convenient alternative to complex port forwarding and intricate network configurations. Without the need for port forwarding, DW® Cloud™ offers easy and secure access to an unlimited number of networks and configurations from a convenient webpage. DW® Cloud™ also allows admin users to easily create customized user roles. Admins can still assign and manage hundreds of users through the server interface, but DW® Cloud™ further simplifies the assignment of user permissions and recorder access. Using DW® Cloud™, administrators can manage hundreds of thousands of users and sites from a secure interface — anywhere, anytime.