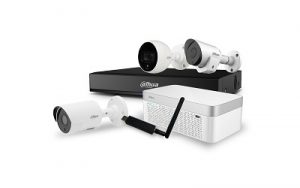 Dahua Technology launches HDCVI-IoT product series – a crucial component of HDCVI 4.0, a revolutionary concept first put forward by Dahua early last year. IoT (Internet of Things) means linking devices together. HDCVI-IoT is an IoT infrastructure based upon HDCVI technology, offering a comprehensive ecosystem linking conventional HD-over-Coax video and audio data with sensor information (such as temperature & humidity) and alarms. This offers users potential risk warnings with visual evidence, allowing them to secure personnel and property across all dimensions.
Dahua HDCVI-IoT includes the following devices.
Linca Series:
DH-HAC-LC1220T-TH
As 2MP HDCVI Temperature and Humidity Camera, it records and uploads video with real-time environmental information using built-in temperature & humidity sensor, perceiving sudden changes for early warning. It boasts a detection range of -40℃~60℃ /10-95%RH with an accuracy of ±2℃ /±5%RH.
DH-HAC-LC1200SL-W
It is a 2MP HDCVI Gateway Camera that integrates up to 32 wireless alarm devices such as smoke detector, door contact or siren, to establish a corresponding system providing visual records for triggered alarms, with built-in Airfly transmitter supporting global frequency 433/868/915Mhz.
MotionEye Series: DH-HAC-ME2802B/ME1400B/ME1200B
The 8MP/4MP/2MP HDCVI MotionEye Camera specializes in accurate motion detection based on video & built-in PIR. While effectively decreasing the false alarm rate, the camera with a max video output of 25/30fps@4MP/1080P provides intrusion detection with visual alarm verification.
HDCVI IoT Recorder DHI-XVR7000E-4KL-X
It offers centralized IoT management with user-friendly UI, displaying real-time IoT data and producing statistical reports. With elegant new appearance design, it also supports built-in battery for emergency power-off.
Accessory DH-PFM871A-N
The HDCVI-IoT USB Dongle attached to the XVR enables access to multiple wireless alarm devices, such as smoke detectors or door contacts, within a transmission distance up to 500m. Temperature and humidity must be kept within specific range to reduce damage or danger. With HDCVI-IoT, when the concerning index goes beyond the number you set, the alarm will be triggered instantly.