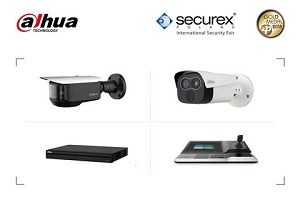 Dahua's four recently launched products, NKB5000 keyboard, TPC-BF2120 camera, XVR5216AN-4KL-16P recorder and HAC-PFW3601-A180 camera, have each won an MTP Gold Medal 2018 at the Securex trade exhibition in Poland. The MTP Gold Medal is one of the most recognised awards in the Polish market, presented after a thorough assessment of innovative products of the highest quality. Each year, nearly 500 products from different countries all over the world compete for the Gold Medal Awards. However, only the ones that meet statutory criteria and gain positive recommendations from the professional jury will receive this prestigious award, which in 2018, offers all together 30 prizes. The Jury, a team of experts, composed of eminent specialists from relevant fields of economic life looking for the products of modern, innovative design based on superior technology. The MTP Gold Medal could thus be termed as a professional confirmation of product excellence.
The NKB5000 UHD decoding network keyboard, a regular winner of renowned international design awards and an innovative product, combines the functions of a classic control desk for CCTV systems with a video decoder. The keyboard can be used with fixed and rotary IP cameras, recorders, and video walls. Built-in alarm inputs and outputs or bi-directional audio make it a complete and multifunctional product.
The TPC-BF2120 camera is a unique combination of a traditional full HD camera with increased sensitivity. In contrast to the traditional bi-spectral cameras, BF2120 introduces the fusion function, uniquely imposing an image from the thermal imaging module on the full HD image, enabling the operators to gain images with unprecedented details and precise information on objects generating heat.
The XVR5216AN-4KL-16P recorder, a versatile device that allows recording of all the most popular vision standards, namely HDCVI, TVI, AHD, CVBS and network cameras, enables easy and convenient adaptation of the existing cable infrastructure, as well as the expansion of systems with modern IP devices. Supporting multi-signal, sending both video and audio, as well as controlling PTZ cameras or power supply with one cable, the XVR5216AN-4KL-16P recorder simplifies installation planning and reduces the cost.
The HAC-PFW3601-A180 camera, an analogue panoramic camera delivering 4K resolution, generates images using 3 independent Sony Starvis transducers with 3.6 mm focal length. It has been created to work in extremely low light conditions. The virtual PTZ and WDR functions ensure greater image detail, increasing the security level provided by the analogue monitoring system. Thanks to the HDCVI technology used, it is possible to use existing coaxial cabling as well as data transfer up to 500 m.