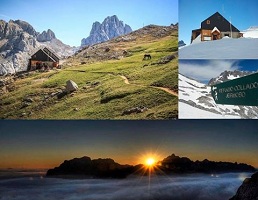 A combination of the technology from Dahua's IP camera, the distribution firm Iptecno and the installation by Wolkam, means that people can now appreciate the amazing landscape, and get the latest weather information on social media sent directly from the peak of the Refugio de Alta Montana, in Collado Jermoso, Spain.
At the peak of Mountain Refugio Collado Jermoso, the biggest challenge comes from the harsh weather conditions, which require tough equipment to adapt to all extreme climates like storms, low temperature, humidity, etc. And as the streaming solution is a big problem, for future observation and online video, a robust streaming engine to obtain real time images is needed.
According to the analysis of this situation, the ultra-series speed dome SD65F230F-HNI from Dahua was found to be an effective selection, as it can provide a powerful optical zoom and accurate pan/tilt/zoom allowing the camera to catch every angle of view, also, with the Starlight technology, the camera provides a solution for operating in both ultra-low illuminated environments and daylight. The True WDR means that the camera is able to face directly into the sunlight or glare, and, although all these technologies allow the camera to provide high quality images, the difficulty is to survive in these extremely harsh weather conditions. The Dahua camera is able to operate in extreme temperature environments from -40°C to +70 °C (-40 °F to +158 °F) with 95% humidity and the camera has been designed to comply with the IK10 vandal resistance impact rating. Having also been subjected to rigorous dust and water immersion tests, it is also certified to the IP67 ingress protection rating, making the camera suitable for this project and other demanding outdoor applications.
The camera was initially tested at the beginning of 2018, when it was used in Aemet Cantabria to get the information of avalanche risks on the Picos de Europa. At that moment, the new equipment was faced with a huge 'Snowfall' that brought the first cold front of February and within a few days, more than 3 metres of snow had accumulated in the area. And the camera still worked well.
For the enjoyment of all outdoor sports in the Picos de Europa National Park and the Valdeón Valley, on June 18, a series of Dahua IP cameras came into operation. The cameras installed on Mountain Refugio Collado Jermoso are able to offer live video and audio online and are set to almost surely become one of the most popular "live windows" of Picos de Europa, both for the enjoyment of its views and to be visually informed regarding the conditions and climate of the upper area of the Valdeón Valley.
The new angle of the camera that now faces west and over the Valdeón Valley is able to observe all its magnitude and the spectacular limestone landscape that the Picos de Europa offers, with the summit of Friero (2,440m) in the foreground and La Canal de la Sotín below. The most attractive pictures taken by Dahua cameras were the breathtaking sunsets that until now were reserved only for mountaineers and more experienced walkers