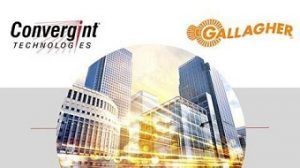 Convergint and Gallagher have joined forces in a partnership for professional security applications across a wide variety of verticals. With this partnership, Convergint Technologies joins Gallagher's exclusive network of certified channel partners who deliver innovative security solutions across the globe.
"Gallagher's strong array of innovative technology demonstrates a deep focus on all aspects of security, including cyber," said Tony Varco, Vice President of Security & Marketing for Convergint Technologies. "We look forward to working together with the Gallagher team to create solutions that protect our customers."
Convergint and Gallagher believe they share significant strength in delivering innovative solutions to the education, healthcare, and government sectors. The two companies work in the high-security space, protecting some of the world's most high-consequence critical assets. According to Convergint, this partnership presents exciting opportunities to enhance security for customers around the world.