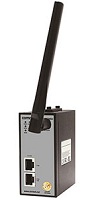 ComNet is bringing to market a cellular VPN gateway for primary or backup wireless broadband network connectivity. The CNFE3TX2CXMS router supports connections to 3G/4G mobile networks with its internal cellular module as well as two Ethernet ports for LAN/WAN connectivity. The primary function of this router is communication from remote edge locations where fiber optic, point to point wireless or cable connectivity is not available.
Other applications for the CNFE3TX2CXMS includes Wireless Perimeter Surveillance, Cellular backup for edge connections, temporary network surveillance deployments, and site to site VPN.
The CNFE3TX2CXMS is certified for use by both AT&T and Verizon and can be used on their mobile networks. This unit is ideal for data transmission as well as low bandwidth video. Enhanced network security features such as HTTPS and IEE802.1X are supported. This unit also offers flexible powering options supporting IEEE802.3af PoE and redundant DC inputs.
The CNFE3TX2CXMS can be configured to operate in three different modes: dynamic static IP, Point-to-Point Protocol over Ethernet (PPPoE) authentication and modem dialup.