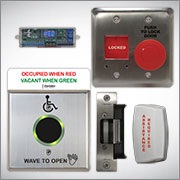 Camden are introducing a new range of 2nd generation restroom control and emergency call systems, specifically designed for universal restroom applications. These new additions and enhancements offer a host of design options, exclusive product capabilities, and unmatched value. The new portfolio include the touchless switch restroom control system which eliminates the spread of germs and disease.
The CX-WC16 Barrier-free Restroom Control System is first on the market to incorporate hands-free switches and combine activation and annunciation in one device. A complete equipment package in compliance with the latest building code requirements, it includes a CX-33 advanced door control relay, 'Wave to Lock' activation switch, 'Wave to Open' activation switches and a door contact.
The new 'Assistance Required' Led dome light with sounder,CM-AF141SO, features LED illumination, vandal and weather resistance, a 93 dB piezo sounder (with adjustable volume control) and 'Assistance Requested' text in French or English. LED illumination provides higher visibility & longer life than incandescent. The Aura red/green/blue push plate switch enclosures, CM-54i, (square surface mount) and CM-55i (square flush mount) push plate switch enclosures provide field selection of 'idle' colour ('on', normal state) and 'active' colour ('on', activated), an audible sounder and Form 'C' contact. It is compatible with Camden's line of 4 1/2″ square push plate switches. In addition, Camden makes restroom control system installation easier by combining all of the product features of the CM-450R/12 'Press for Assistance' mushroom push button and the CM-AF501SO LED annunciator w/ adjustable sounder, on a double gang plate – the CM-AF540SO. French and bilingual language versions are available.