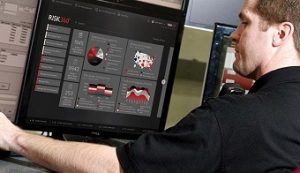 AMAG Technology, a provider of access control, video management, identity management and visitor management solutions, has announced the latest addition to their portfolio: RISK360. This solution is a robust, global Incident and Case Management system that investigates and analyses incidents to help organisations operate more efficiently, save money, enforce compliance and mitigate risk.
RISK360 is a highly configurable, workflow based solution that empowers security teams to capture information, perform assessments and identify risks, giving companies a clear picture of what is happening on their premises. Organisations can track the time and expenses spent on incidents, monitor resource allocation and use that data to streamline processes and save money. Robust reporting with customised dashboards help companies work smarter and meet compliance requirements.
Available as a Software as a Service or as an on-premise solution, RISK360 operates on all modern browsers and mobile operating systems including IOS, Windows and Android. RISK360 integrates seamlessly with Symmetry Access Control software. Events in RISK360 are communicated to Symmetry Access Control, and alarms in Symmetry generate events in RISK360. The integration creates Be On the Lookout (BOLO) flyers and automatically terminates a user's access in Symmetry, providing a safer environment.
RISK360 also helps manage security personnel with guard tours, daily activity reports and passdown logs. Users can leverage computer aided dispatch to identify the closest available responders, saving time and improving efficiencies. Organisations can also capture site specific information using geospatial analysis, perform assessments and notify teams of risk.