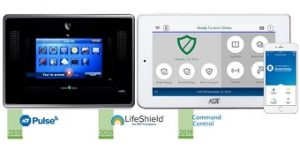 ADT released its Q4 2018 results recently, revealing revenue of nearly $1.2 billion, up 7% year over year. But things will really heat up in 2019 when the company says goodbye to the original Pulse platform launched in 2010 and replaces it with the new ADT Command and Control —"Command" being the alarm and automation panel, and "Control" the platform and app.
ADT revealed the redesigned smart home security system in January at CES. The company has already installed some 6,000 systems on a regional basis, but by the end of this month it will be available nationwide. Pulse had a good run, and some 3 million ADT customers are using the platform today, but "as home automation continues to evolve and become more accessible," says Don Young, ADT CIO and EVP, field operations, "customers want and expect a security solution that is fully integrated with the latest technology innovations."
The self-contained wireless Command panel features a 7-inch touchscreen and built-in camera, which can snap a photo when the system is disarmed. The new platform supports over 250 devices, ranging from carbon monoxide detectors to smart light bulbs, and scene controls can be configured to trigger several subsystems at once.
For example, in case of a fire, the system can shut off the HVAC fan, turn on the lights, and unlock the doors to provide a safe exit for occupants and an easy entry for responders.
The panel has dual-path broadband and LTE cellular communications, and it features two-way encryption for its RF sensors to help reduce the potential for hacking. For increased control, Command offers unique user codes and permission settings that can be set by specified days and times.
Other features include access to the ADT Go mobile safety app that offers family check-in and geofencing, ADT Video Doorbell integration, voice control via Amazon Alexa and Google Voice Assistant, and ADT's free interactive crime maps that provide up-to-date information on crime statistics. "We're obviously excited about this being a successor to Pulse," says Young. We've rolled this out to 6,000 homes already as part of a phased approach. We will go national at the end of this month. The over-the-air updates, the remote diagnostics are significant enhancements to what we've already experienced so far. We have a broader range of sensors with a much larger range."