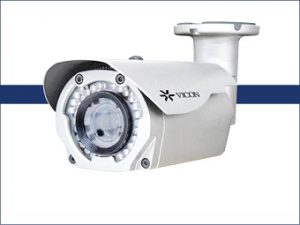 Vicon aims to broaden its customers' choices for versatile and affordable IP surveillance by introducing the new V922B-W551MIR-A1 high definition varifocal network bullet camera model into its already successful HD network camera series.
This bullet camera is a high-resolution IP camera ideal for outdoor applications where image detail and/or wide coverage is important. It has a span of focal lengths, from wide angle to telephoto, providing focal length flexibility in a single lens.
Varifocal length lenses allow the installer to obtain the exact field of view quickly and easily, eliminating lens substitutions or the need to continuously adjust the camera setup. The 5.1-51mm 10X motorised focus and zoom lens offers the benefits of a choice of focal lengths to adjust and fine-tune the lens for any situation. In order to adapt to the low light lighting conditions, the V922B-W551MIR-A1 has integrated IR LEDs designed to illuminate the scene up to to 82 ft (25 m). Installation is made easy and cost effective with Power over Ethernet (IEEE 802.3af), which eliminates the need for power cables. This compact camera has an integral mount that allows it to be mounted on a wall, where the position is adjustable to any view required.