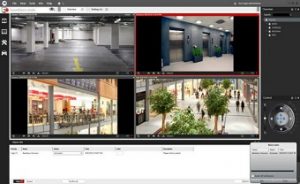 Seetec launched the latest version R13 of the video management software Seetec Cayuga – it now comes with a new interface to unleash the software's full potential in integrated security ecosystems, generating significant added value for corporate and enterprise customers. Seetec BVI, the customisable video solution to support business processes, undergoes a paradigm shift towards real-time operations.
One of the key benefits of Seetec Cayuga has always been its flexibility to hook up to security ecosystems via interfaces and integrations. With its latest release R13, Seetec now unveils an innovative tool, which makes it even easier to create comprehensive environments consisting of multiple systems and applications communicating with each other.
The Seetec Event Interface (SEI) has been designed to break new ground to connect the Seetec Cayuga video management software to third-party security products using a flexible, driver-based approach. All events from third-party applications such as access control, burglar alarm and many more can now be visualised within the VMS, for example by displaying them in maps and floor plans or opening the relevant camera streams. This gives system operators a much better overview, reducing the reaction time in case of critical incidents significantly.
Another essential move into this direction is the extension of the Seetec Analysis Interface, which now also supports the integration of any edge or server-based license plate recognition solution on the market.
Amongst the usability features implemented in R13, the video backup functionality within Seetec Cayuga received a major revamp. It allows the automatic backup of video recordings based on time schedules or – which is new – on event triggers. If a backup operation is interrupted (e.g. when using Wifi connections to offload data from mobile units such as trains or trams), it can be resumed automatically. An improved notification system provides full transparency about the status of scheduled and ongoing backups.
Seetec BVI, the second Seetec software product that will be published as R13, also sees various improvements. With especially the logistics and retail industry in mind, Seetec BVI is shifting its paradigm, because the software can – for the very first time – be used for the live monitoring of scans, transactions or other events. For the application in retail that means, for example, that a security guard can now at once monitor multiple cash desks and mark suspicious activities directly within Seetec BVI, whereas for a logistics scenario this new functionality can be used for the surveillance of the picking process of an order. In addition, Seetec BVI provides numerous further improvements, such as a more precise timeline handling in the video archive, which give users palpable advantages in everyday use.