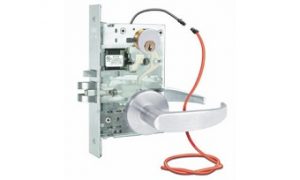 Security Door Controls (SDC) has introduced a new concept in electrified mortise locksets with the MLR Z7600 Series motorized latch retraction mortise locksets. The locksets are designed for the access control of openings in commercial, industrial and institutional facilities where code compliance, dependable operation and resistance to physical abuse is required, according to the company.
Currently available in fail-secure mode, MLR Z7600 Series MLR mortise locksets feature motorized low current operation — 620mA inrush, 160mA holding force at 24VDC — as well as field selectable handing, optional full monitoring capability and a host of other features, finishes and accessories.
MLR locksets comply with all national building and fire life safety code requirements for use on fire-rated doors where the use of electric strikes and magnetic locks is prohibited. MLR mortise locksets are also said to ensure the door stays latched even when unlocked, maintaining fire door integrity.