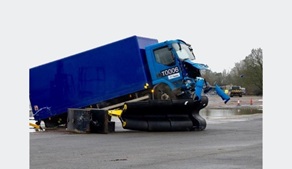 Combining a large footprint and unique shape, Impakt Defender is IWA-14 rated, capable of stopping a 7.2 tonne N2A lorry travelling at 30 mph. The barrier is also accredited by Secured by Design.
It requires no foundations, enabling it to be quickly installed across all types of sites. Individual units weigh in at 430 kg and are manufactured from 100% recycled rubber bonded with polyurethane for strength.
Additionally, Jacksons Fencing's steel security fence panels can be mounted above the barriers to provide increased perimeter security. An ideal physical and visual deterrent, the combination can be rapidly deployed for temporary or permanent security installations, helping to protect people, buildings and infrastructure from hostile vehicle attacks.
Dalton Marshall, Sales Manager at Rosehill Security, comments: "Securing public spaces is a high priority for businesses and government organisations, with effective HVM solutions now more in-demand than ever."