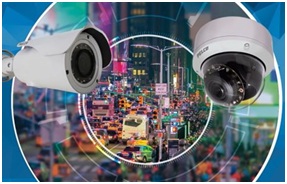 Pelco by Schneider Electric has released the GFC Professional 4K, a video camera delivering 8 MP resolution detail for demanding video security applications with heavy foot and vehicular traffic. The GFC Professional 4K is also designed to support challenging lighting conditions which are typical in city surveillance, airports, seaports, traffic, gaming facilities, corrections, commercial, and hospitality deployments.
The GFC Professional 4K camera delivers high definition, clear video at 30 frames per second (FPS) for industries whose operations demand 24/7 surveillance. With this level of clarity, customers can use one camera to cover a large area and digitally zoom-in for detailed information like licence plate numbers and faces. By pairing 4K video resolution with H.265 video coding and Pelco's Smart Compression technology, the GFC Professional 4K camera minimizes network bandwidth and storage costs.
"Pelco has successfully applied 4K technology to solve real security video challenges – providing more detail even in scenes with low light or overly bright areas, and doing this cost-effectively without unduly burdening storage costs," said Sophie Wang, Sr. Global Product Line Manager. "Unlike other vendors' 4K cameras, the robust Pelco Pro firmware feature set on the GFC Professional 4K maximizes image quality, light sensitivity, and much more," she concluded.
According to Pelco, in comparative tests using the ISO standard for evaluating a camera's true dynamic range (tone contrast within an image), and not a proprietary vendor test with undisclosed "forensic" conditions, the GFC Professional 4K consistently tested 5 to 9% higher than the competitor's 4K camera. Additionally, the GFC Professional 4K delivers category-leading 0.2 lux light sensitivity performance at 30FPS in color mode