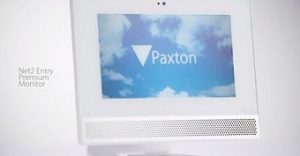 Paxton, a global brand of electronic IP access control and door entry solutions, will showcase its new Net2 Entry Premium Monitor at Securex, taking place at the Gallagher Convention Centre in Johannesburg.
With an emphasis on design aesthetics plus excellent build quality, the premium monitor has a host of new features including a concierge function at no charge, enhanced call administration, and increased customisable options. The new monitor is ideal for residential and commercial applications.
Dan Drayton, International Sales Manager, said: "This will be our third consecutive year at Securex and the show continues to provide an excellent opportunity for us to showcase our ever-growing innovative product range, which this year, will include our latest release, the Net2 Entry Premium Monitor.
"We will also be demonstrating the latest integrations available with our Net2 access control system including biometric solutions from Idemia Morpho and Virdi."
Also, on the Paxton stand will be the company's networked access control system, Net2, the full range of the Net2 Entry, video door entry solution, information about Net2 integrations and an preview of exciting new Paxton products coming in 2018.