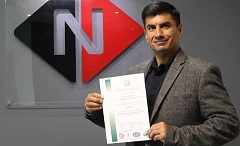 People and vehicle access control specialists Nortech is heading into the second half of 2018 on a high as the company has recently been recognised as complying with the latest ISO 9001 standard. As one of the leaders in access controls systems, Nortech is proud of its approach to product engineering to ensure quality and reliability in both its products and services, and has recently achieved the ISO 9001:2015 standard. The updated 2015 version of the ISO 9001 standard recognises businesses for their effective quality management and requires them to demonstrate that they can meet the regulatory requirements and apply the system effectively to benefit their customers. Receiving recertification shows that Nortech is prepared for any current and future challenges.
Nortech's Managing Director Steve Blackler is delighted with the company's progress commenting, "I would like to express my thanks to our fantastic team and to our loyal customers. Nortech continues to thrive and it is our job to make sure we satisfy our customer expectations and that we are doing what we should so that we continue to grow."
Nortech has also recently started an apprenticeship scheme, under which it has just welcomed its first new addition to its technical production team where he is already proving to be a valuable asset. With Nortech continuing to prioritise staff wellbeing, one of its most recent projects is the renovation of the company's staff room. The new breakout area has been fitted with sofas and a TV so that employees have somewhere to go to wind down in a more informal setting. A dining table, new kitchen and outdoor area also make the room more comfortable for holding monthly meetings and enjoying some fresh air in fine weather.
New LED lights have recently been installed throughout the premises to create a brighter atmosphere and to make the building more environmentally friendly.