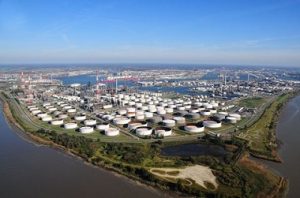 Milestone Systems is the chosen solution for protecting the Port of Antwerp, the second largest seaport area in Europe, covering more than 12,000 HA, the equivalent of 20,000 football fields.
Large areas like ports are very difficult to secure in a traditional way. Reporting incidents using only radio communications can lack information at an optimal level of detail and accuracy. It takes time for responders to reach incidents. Analogue video solutions have issues with very long distances, meaning video amplifiers must be used which lead to fragile and inflexible infrastructure.
Milestone Xprotect Corporate and Xprotect Smart Client have enabled the port authorities to establish a central control centre with a consolidated view of the harbor. This enables rapid and relevant response to incidents, reducing the impact of incidents on assets and persons.
The open platform technology pioneered by Milestone combined with the solution power of the Milestone Partner Community enabled the Port of Antwerp to choose the right infrastructure components and cameras for their challenges. Lenovo, Dell and a number of camera partners are elements of the solution. Thanks to the usability of network video, the port can utilise Milestone open platform for solutions that augment the already rich functionality of Xprotect VMS.
In addition to the infrastructure, the Port of Antwerp is taking advantage of of Milestone Care Premium. Milestone Care is a complete suite of operational maintenance and support services grouped into four different packages, enabling Milestone customers to choose the support coverage that fits their exact need, now and in the future. With the chosen level of support, Milestone steps in to ensure that this business-critical system in the port receives a high level of support. Furthermore, Milestone Professional Services has also been in play for this advanced installation, to guide and counsel the port on the best capabilities of the open platform VMS. This consultancy service ensures the port can adapt and expand this system as needed for an ever-expanding, always relevant surveillance solution.
"We are extremely pleased to have been chosen by Port of Antwerp for their video safety system," says Michaël Fontaine, Country Manager Benelux, Milestone Systems. "This is a clear testimonial to the solution power of Xprotect and our open platform partner community. This has already been proven in a number of other ports worldwide, and now in the modern Port of Antwerp."