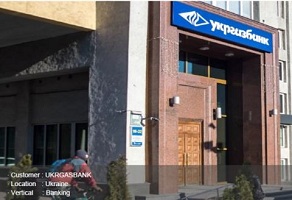 After their old system become outdated and no longer met requirements, the JSB Ukrgasbank, a chain of banks in the Ukraine, decided to invest in a future-proof IP network video surveillance technology in order to be able to remotely monitor activity within its various departments from a central control room. High definition Wisenet IP network cameras were selected for the project, with 1,166 SND-L6083R dome cameras and 127 SNO-L6083R bullet cameras being installed across 180 branches and at the bank's data processing centre.
Established in 1993, JSB Ukrgasbank provides financial services for approximately 900,000 individuals and over 46,000 corporate and SME customers. With 95% of its share capital belonging to the State of Ukraine represented by the Ministry of Finance of Ukraine, the bank's focus is on green finance.
The Wisenet SND-L6083R 2 megapixel vandal resistant network IR dome with varifocal lens is an ideal camera solution for cash zones and customer service areas as it has a 'Hallway' feature for the monitoring of narrow vertical areas such as aisles and has built-in IR illumination and WDR to capture high quality images in varying light conditions. The SND-L6083R also features motion detection, privacy masking zones, audio support, PoE, an SD/SDHC memory slot and LDC (lens distortion correction) which compensates for image distortion which can occur with wide angle lenses.
The SNO-L6083R shares the same features of the SND-L6083R. It has been installed in outdoor locations as it offers the additional benefit of being waterproof. Both cameras utilise H.264 and MJEG compression and offer the flexibility to choose from a wide range of image resolutions to optimise video streams and significantly reduce the load on the bank's network and data storage systems.
The client is now able to view live or recorded video of any incidents 24/7 from a central location, making it much quicker and easier to take appropriate action. "The comprehensive solution based on Hanwha Techwin products and the Milestone Xprotect platform has fully met our expectations and allowed us to put a solid foundation for the development and expansion of the security system in the future," said Konovalov Ihor Viktorovich, Director of Ukrgasbank JSB Banking Security Department.
"As one of the largest banks in Ukraine, we set ourselves the task to create the highest level of trust from our clients, making their stay in the bank safe and comfortable. Also, by selecting modern professional equipment, we wanted to not only be able to record events, but also be able to utilise its functions for the bank development and analysis for delivering better services to customers", said Konovalov. "The average event search time demand with the previous system was about 2 hours and now it is done within 10 minutes by the new Hanwha Techwin system."
Hanwha Techwin focused on delivering an uncomplicated, easy to operate integrated video surveillance solution which the bank's security personnel would be comfortable working with. On-site training sessions and 'How to' video and documentation were provided for locally based security officers following the installation of the cameras at each branch. The questions raised during these training sessions proved to be very useful for Hanwha Techwin as they provided a greater understanding of the client's needs