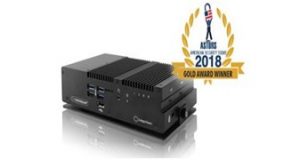 Indigovision's cyber security offering, Cybervigilant, was recently declared winner of the "Gold ASTORS Award" for "Best Cyber loT Management" at ISC East in New York City, on the 14th November 2018. The Annual 'ASTORS' Awards highlights some of the most cutting-edge and forward-thinking security solutions coming onto the market today.
The programme is specifically designed to honour distinguished government and vendor solutions that deliver enhanced value, benefit and intelligence to end users in a variety of government, homeland security and public safety vertical markets.
"As the nation continues to respond to escalating threats from home and abroad, the innovative solutions being implemented to meet those threats, have led to tremendous growth in the field of Homeland Security," said Michael Madsen, co-founder and publisher of American Security. "Today, the United States is increasingly focusing on protecting IT/cyber security networks and they are calling on innovative companies like Indigovision to help them do so."
Indigovision's Cybervigilant was selected for its ability to offer quick responses to potential cyber threats. Cybervigilant differs from other cyber-security solutions because of its unique capability to learn which devices are connected to the IndigoVision security system and automatically applies intrusion detection rules to them, and in the event that any anomalies are detected, alarms are sent directly into the Indigovision Control Center user interface enabling users to respond immediately to a cyber attack.
Indigovision first released Cybervigilant, in early 2017, after which the company decided to take cyber-security technology to the next level by releasing Cybervigilant in Camera. Building on over two decades of experience in the Security industry, Indigovision's Cybervigilant technology is an effective answer to potential cyber attacks.
Commenting on this prestigious award, Indigovision's Marketing Manager, Hayley Morrison, said "We are honoured to be recognised for our achievements in American Security Today's distinguished 2018 'ASTORS' Awards Program for our advances in cyber-security solutions. This award is a clear indication that Cybervigilant helps security leaders to keep their security system safe and secure from potential cyber-attacks."