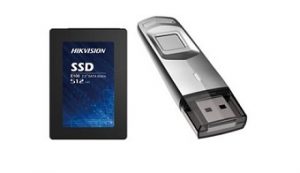 Hikvision has launched a new range of high-quality storage device in Europe to satisfy customer demand for 'surveillance-class' secure, storage solutions. The product portfolio includes Smart memory cards, solid state disks, USB flash drives and network attached storage drives.
As a leading surveillance provider, Hikvision has built up a wealth of expertise over years of developing new, innovative products for that industry. This experience and knowledge is now being used to create portable storage solutions that are specifically designed to complement surveillance solutions, providing essential back-up. One example of this is a self-development algorithm in Hikvision microSD cards and SSD (solid state disks) which ensures a stable and excellent performance. These products are also tested with Hikvision IP cameras and recorders, so complete compatibility can be assured. 'Edge' recording – i.e. where the devices at the 'edge' of a solution can record within themselves – is a very important part of a solution, since it provides local backup.
Hikvision microSD cards are used to expand the capacity of smart phones, being compatible with Android phones. There is also a complete line designed for consumers, including memory cards, SSDs, USB flash drives, portable SSD/ HDDs and NAS (Network Attached Storage) drives, to satisfy a wide range of needs. One example of the innovation Hikvision is putting into these products is the new M200F USB drive, which boasts fingerprint encryption security. This is a great benefit, especially in the light of the new GDPR regulations in Europe protecting privacy. These products enrich the whole portfolio and are made to be attractive to consumers, for example with great, colourful designs.
"Since May last year Hikvision has been working on SSD and flash memory products, leveraging its experience in video processing and data management gained over a decade", says Peter Guan, Channel Sales and Marketing Director at Hikvision Europe. "We have already launched a series of smart storage cards and USB flash drives, among others, and will continue to develop products to help people to capture and share their experiences, as well as supplementing surveillance solutions."