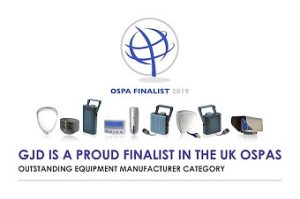 GJD, a leading British manufacturer of professional external detector equipment and LED illuminators, has been shortlisted as a UK OSPA 2019 finalist in the Outstanding Equipment Manufacturer category. Now in their third year, the UK OSPAs serve to acknowledge the creditable and infinite contributions that companies, initiatives, teams and individuals make to the security industry and wider community.
"The standard of entries this year has again been really high making the judging process as difficult as ever" commented Professor Martin Gill, Founder of the OSPAs. "Those that have been selected were marked independently by the judging panel and all reached a score threshold – ensuring they represent the very best in the industry."
GJD has over 35 years' experience in protecting and securing people, properties and assets. In 2017 GJD was awarded with the Queen's Award for Enterprise for International Trade, which is the UK's highest accolade for international business success. GJD's security solutions rapidly identify genuine alerts, reduce false alarms and optimise the callout of responders, making its product range a truly valuable asset to both people and properties in all industry sectors across the world.