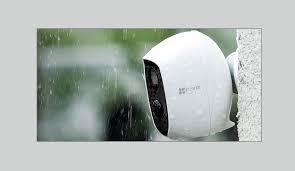 EZVIZ Inc.has announced the latest addition to its surveillance camera range with the arrival of the C3A CCTV camera, which offers a wide view of the home, driveway or garden as well as clear night vision to detect any intruders. The camera works in partnership with the EZVIZ app that allows users to access footage whenever and wherever.
The EZVIZ C3A can be used in the home or outside thanks to its IP65 rated weatherproof housing and is hassle-free with no wires to get tangled as it's a stand-alone camera with a battery life of over three months. The extended battery life is thanks to the long life 5500mAh rechargeable lithium battery which is unlike any other camera in the EZVIZ range. In addition, if users add on the EZVIZ W2D base station they can prolong battery life to up to nine months. The C3A is also compatible with voice assistants such as Amazon Alexa and Google Assistant.
The C3A is designed to monitor in all conditions and light levels and is equipped to alert home-owners of any activity thanks to its Smart Human Technology which notifies, using PIR technology, any people approaching the property. The intuitive camera can decipher whether motion is derived from a pet or human movement, when a notification would be made, but not when there are more subtle activities such as insects, the curtain moving or change of light.
There is also a two-way talk function so if a visitor arrives whilst the occupant is not in the house, it is easy to communicate with them via the app. A helpful feature to have deliveries placed in secure locations, save a friend from waiting in the rain or to say thanks to the dog walker!
The camera has an ultra-wide-angle lens enabling a large expanse of the property to be monitored. With its HD 1080p wide-angle lens, the C3A has a 126° view and at night can clearly deliver a crisp picture up to five meters away. The device also smartly switches between day and night modes automatically