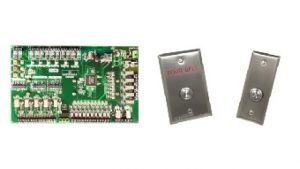 At ISC East 2017, Dortronics is featured access control solutions that meet the challenging design requirements and expand application possibilities. Highlights include their highly versatile and economical 4800 Series Intelligent Interlock Controllers and the recently introduced WR5276-HD Series of waterproof push button switches.
The 4800 Series offers users the capability to configure the controller in the field to accommodate up to five doors, with ample flexibility for various input/output configurations. Additional design features include a unique watchdog circuit that constantly monitors operation; LED indicators for input-output connection status; voltage spike and surge protection on all outputs; and adjustable propped door, panic release, and door unlock timers. Dortronics 4800 Series Smart Interlock Door Controllers are available as a board-only module or complete with a heavy duty 4-amp power supply.
Dortronics WR5276-HD Series Waterproof Push Button Switches feature an IP66 rating and include a neoprene gasket, making them ideal for use outdoors in harsh conditions, and in areas such as cleanrooms that require wash-downs. When used with card access systems or automatic door openers, the switches' double pole, normally-open, dry contact outputs can be wired to signal a door to unlock and to the door opener to activate. The heavy-duty WR5276-HD Series Waterproof Push Button Switches are manufactured with brushed stainless steel in standard switch plate sizes with standard engraved legends. Custom plates and text are available with a quick turnaround time.