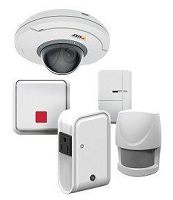 Axis is releasing a new palm-sized PTZ camera with wireless I/O connectivity for communication with other devices using Z-Wave Plus standard, a standard widely used in the smart home market.
The new addition enables flexible wireless communication with supporting security devices and makes installation both easier and more cost-effective. The discreet Axis M5065 network camera comes with 5x optical zoom, autofocus and built-in analytics.
In a security installation, the total cost for system deployment is not the security equipment alone. Additional expenses, such as cabling and labor costs, can put security investments out of reach for small business owners. Visible cables can also be a problem where interior design and esthetics are important. Axis Communications is helping to remove these barriers with the introduction of Axis M5065 and selected wireless accessories. The wireless I/O connectivity enables flexible system deployment providing high-quality indoor security surveillance, allowing business owners to keep control of their premises and assets.
Axis M5065 delivers HDTV 1080p resolution and includes analytics such as Axis video motion detection, removed object detection as well as audio volume and scream detection.
With the camera's wireless I/O connectivity, it is possible to use an on/off command to control up to six wirelessly connected devices supporting Z-Wave Plus. Thanks to the technology, business owners can easily and cost-efficiently design a tailor-made system by themselves, combining camera and accessories based on their needs. Changes and updates to the system can be made just as easily. Axis offers four wireless I/O compatible devices- the Axis T8344 power on/off plug; the Axis T8342 door/window sensor; the Axis T8341 PIR motion sensor and the AxisT8343 alert button