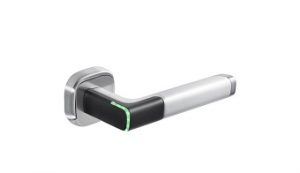 The newest product in the Aperio technology range, the Aperio H100 combines the power and flexibility of wireless access control into a slim, cleverly designed door handle.
Compatible with most new and existing access control systems, the Aperio H100 is very easy to specify with only two parts to choose from – a left and right handle. It's also easy to fit, with no drilling or wiring required, and can be retro-fitted to almost any interior door. Furthermore, any existing mechanical cylinder can still be used too.
Battery-operated, the Aperio H100 is ideally suited for business environments that experience high levels of traffic, and integrates with an extensive range of third-party systems. This includes iCLASS/ ISO14443B, iCLASS SE, Seos, MIFARE Classic, Plus and EV1, and DESFire SE.
The Aperio H100 can operate as part of an online access control system or offline as a standalone device, and is available in either a left or right-hand models for a door between 35mm and 80mm thickness. The device is also available with the option of a U-handle and USB adaptor. David Smyth, Regional Sales Manager at ASSA ABLOY Access Control and Aperio specialist, said: "The Aperio H100 is a fantastic addition to the Aperio range and enables access control capabilities to be added to almost any interior door. It's an affordable and stylish solution that's been designed to perfectly complement the modern office environment, or any premises that requires access control."
"The Aperio H100 has been designed to take the hassle out of the specification process, with only a left or right hand model to specify. It's is also easy to retro-fit, easy to install and works with most common European and Scandinavian mortise locks, in wooden, steel, tubular frame or glass doors with standard lock cases. Extending access control to extra doors is easier and more cost-effective than ever before, with the Aperio H100."
Aperio is a smart access control technology that enables mechanical locks to be wirelessly linked to an existing access control system in a convenient and cost-effective way. The H100 is the latest addition to the Aperio portfolio, which includes online and offline cylinders (C100/C900) and escutcheons (E100/E900), locks (L100/L900), and a wireless lock (KS100) for bringing server racks and cabinets into the same access control system as doors.