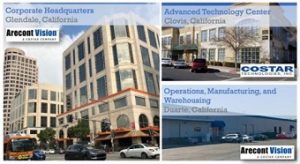 Arecont Vision Costar, a leader in network-based video surveillance solutions, is opening a new corporate headquarters, manufacturing, and warehousing operations, and the creation of an Advanced Technology Center (ATC).
Arecont Vision Costar launched in July, 2018 as a business unit of Costar Technologies, Inc. Through consolidation of multiple functions within the Costar group of companies, Arecont Vision Costar has been able to invest in the hiring of new team members, engage additional sales partners, and upgrade both facilities and systems.
The company's corporate headquarters has moved to newly opened offices in Brand Avenue in downtown Glendale, California, less than a mile from the company's previous location. The modern new offices house Arecont Vision Costar's executive team plus Engineering, Product Development, Inside Sales, Sales Operations, Marketing, Customer Support, Corporate Briefing Center, technology labs, and internal support functions.
These new facilities, when combined with the newly enhanced Customer Support Portal, updated Partner Portal, and new ERP software systems, will all help the company to better focus on delivering a superior customer experience, improved product quality, and the continued development of the innovative products that the Arecont Vision brand has long been known for